Supporting People with Intellectual Disabilities as They Age
The Eden Magazine, July 2022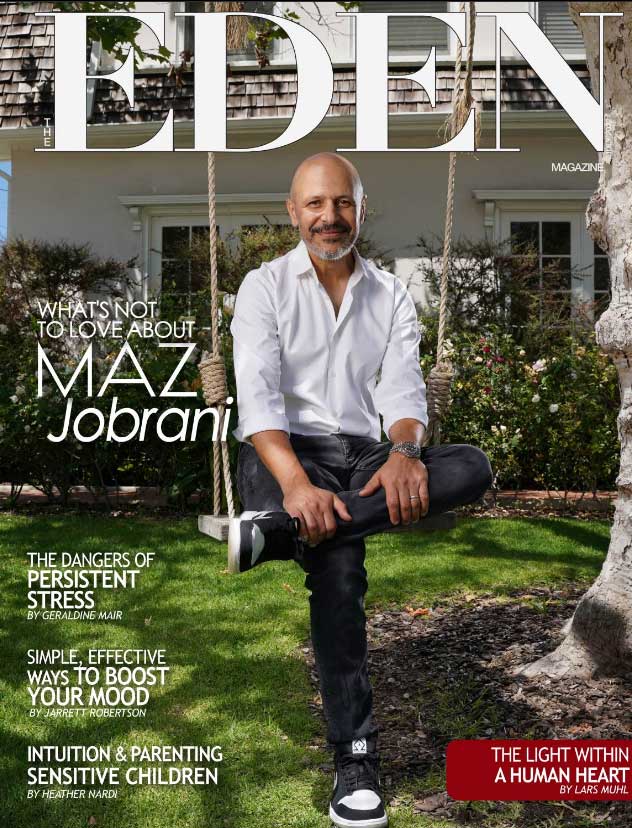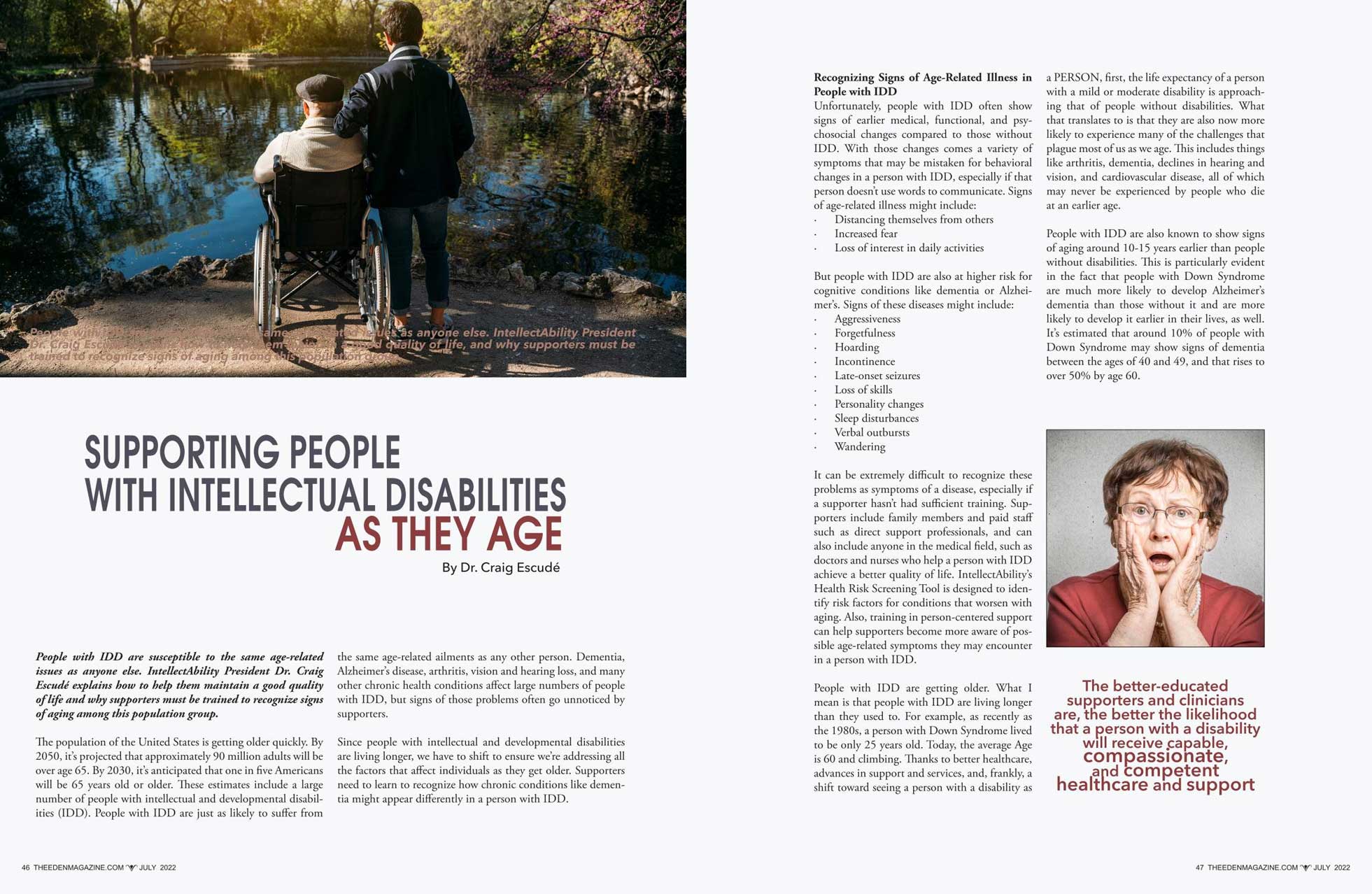 People with IDD are susceptible to the same age-related issues as anyone else. IntellectAbility President Dr. Craig Escudé explains how to help them maintain a good quality of life and why supporters must be trained to recognize signs of aging among this population group.
The population of the United States is getting older quickly. By 2050, it's projected that approximately 90 million adults will be over age 65. By 2030, it's anticipated that one in five Americans will be 65 years old or older. These estimates include a large number of people with intellectual and developmental disabilities (IDD). People with IDD are just as likely to suffer from the same age-related ailments as any other person. Dementia, Alzheimer's disease, arthritis, vision and hearing loss, and many other chronic health conditions affect large numbers of people with IDD, but signs of those problems often go unnoticed by supporters.
Since people with intellectual and developmental disabilities are living longer, we have to shift to ensure we're addressing all the factors that affect individuals as they get older. Supporters need to learn to recognize how chronic conditions like demen- tia might appear differently in a person with IDD.
Recognizing Signs of Age-Related Illness in People with IDD
Unfortunately, people with IDD often show signs of earlier medical, functional, and psy- chosocial changes compared to those without IDD. With those changes comes a variety of symptoms that may be mistaken for behavioral changes in a person with IDD, especially if that person doesn't use words to communicate. Signs of age-related illness might include:
Distancing themselves from others
Increased fear
Loss of interest in daily activities
But people with IDD are also at higher risk for cognitive conditions like dementia or Alzhei- mer's. Signs of these diseases might include:
Aggressiveness
Forgetfulness
Hoarding
Incontinence
Late-onset seizures
Loss of skills
Personality changes
Sleep disturbances
Verbal outbursts
Wandering
It can be extremely difficult to recognize these problems as symptoms of a disease, especially if a supporter hasn't had sufficient training. Sup- porters include family members and paid staff such as direct support professionals, and can also include anyone in the medical field, such as doctors and nurses who help a person with IDD achieve a better quality of life. IntellectAbility's Health Risk Screening Tool is designed to iden- tify risk factors for conditions that worsen with aging. Also, training in person-centered support can help supporters become more aware of pos- sible age-related symptoms they may encounter in a person with IDD.
People with IDD are getting older. What I mean is that people with IDD are living longer than they used to. For example, as recently as the 1980s, a person with Down Syndrome lived to be only 25 years old. Today, the average Age is 60 and climbing. Thanks to better healthcare, advances in support and services, and, frankly, a shift toward seeing a person with a disability as a PERSON, first, the life expectancy of a person with a mild or moderate disability is approach- ing that of people without disabilities. What that translates to is that they are also now more likely to experience many of the challenges that plague most of us as we age. This includes things like arthritis, dementia, declines in hearing and vision, and cardiovascular disease, all of which may never be experienced by people who die at an earlier age.
People with IDD are also known to show signs of aging around 10-15 years earlier than people without disabilities. This is particularly evident in the fact that people with Down Syndrome are much more likely to develop Alzheimer's dementia than those without it and are more likely to develop it earlier in their lives, as well. It's estimated that around 10% of people with Down Syndrome may show signs of dementia between the ages of 40 and 49, and that rises to over 50% by age 60.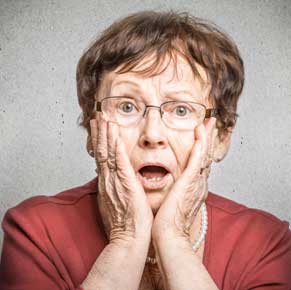 The better-educated supporters and clinicians are, the better the likelihood that a person with a disability will receive capable, compassionate, and competent healthcare and support
Many people with IDD have chal-lenges in communicating verbally and, therefore, may communicate in different ways than by using words. Communication often takes the form of a particular behavior that may not be recognized by others as being a form of communication. Many times, these "adverse" behaviors may be interpreted as "just something that the person does" and not thought of as a way of expression. For example, a person with IDD who frequently becomes agitated around mealtimes may be communicating that they are having pain, such as a toothache. They have learned to associate chewing with pain and therefore begin to become aggressive at times when they know that chewing will occur. To an untrained supporter, this type of communication may be missed, and the person may go on suffering for years. An example relating to changes we see with aging is that a person who once liked to look at magazines begins to throw them at others because they can no longer see up close.
For anyone who works in a field where they are providing support and services for people with disabilities or who has a family member with IDD, training can be extremely helpful in learning common ways that people with IDD may communicate differently than expressing their feelings using words. And, for the person with IDD, having people around them that understand their "language" can mean the difference between suffering from undiagnosed health issues and living a healthy and pain-free life. And in the most serious cases, it can mean the difference between life and death. For many years, the only way to really be trained about these topics was through "on the job" training by working in this field and learning from others who had worked there longer. That's how I learned much of what I know and now teach to others. In the past 10-20 years, I've seen more emphasis being placed on teaching health support information as well as person-centered skills to those who work in this field. But we still have a long way to go. It is vital that healthcare providers, including physicians, nurses, dentists, and allied health professionals, as well as direct support professionals and other provider agency staff, receive formal education and training to support people with IDD to live healthy lives and reduce unnecessary suffering.
Training in this area has been hard to come by. But, in recent years, eLearning courses have been developed and made available to supporters and clinicians that teach concepts such as the Fatal Five – the most common preventable causes of illness and death in people with IDD, Person Centered Thinking, which helps supporters learn how to ensure that the person's desires and wants for life are included in any type of support plan, and even clinical training for physicians and other healthcare providers that teach both IDD healthcare concepts as well as ways to improve communication between clinicians, supporters and people with disabilities. The better-educated supporters and clinicians are, the better the likelihood that a person with a disability will receive capable, compassionate, and competent healthcare and support, including for those that are aging
About IntellectAbility:
IntellectAbility provides tools and training to agencies, governmental entities and supporters of people with intellectual and developmental disabilities to foster early recognition and mitigation of health risks thereby improving health and wellness. One such tool is the Health Risk Screening Tool (HRST), of which they are the sole developer, producer, and distributor.
The web based HRST is the most widely used and validated health risk screening instrument for people with intellectual and developmental disabilities. IntellectAbility also provides numerous health-related and person-centered service trainings for supporters of people with IDD. With unrelenting focus, IntellectAbility works to fulfill its mission of improving health and quality of life for people with intellectual and developmental disabilities and other vulnerabilities. For more information, visit ReplacingRisk.com.

Dr. Craig Escudé
is a board-certified Fellow of the American Academy of Family Physicians and the American Academy of Developmental Medicine and is the President of IntellectAbility. He has more than 20 years of clinical experience providing medical care for people with IDD and complex medical and mental health conditions.
He is the author of Clinical Pearls in IDD Healthcare and developer of the Curriculum in IDD Healthcare, an eLearning course used to train clinicians on the fundamentals of healthcare for people with IDD.