People with IDD Face Systemic Barriers; NCD Calls to End Inequity, Increase Medical Training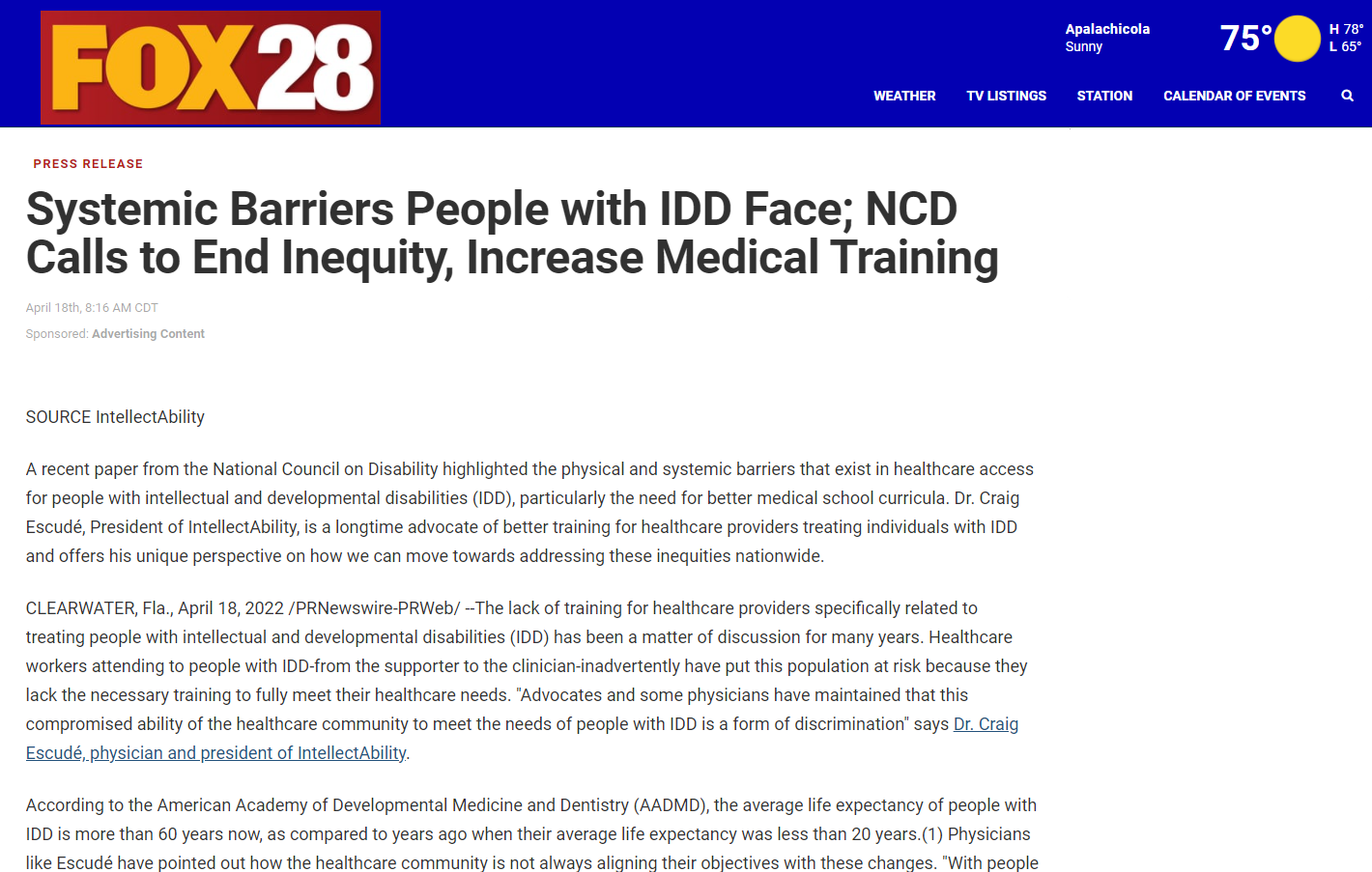 Published on WPGX Fox28
A recent paper from the National Council on Disability highlighted the physical and systemic barriers that exist in healthcare access for people with intellectual and developmental disabilities (IDD), particularly the need for better medical school curricula. Dr. Craig Escudé, President of IntellectAbility, is a longtime advocate of better training for healthcare providers treating individuals with IDD and offers his unique perspective on how we can move towards addressing these inequities nationwide.
The lack of training for healthcare providers specifically related to treating people with intellectual and developmental disabilities (IDD) has been a matter of discussion for many years. Healthcare workers attending to people with IDD-from the supporter to the clinician-inadvertently have put this population at risk because they lack the necessary training to fully meet their healthcare needs. "Advocates and some physicians have maintained that this compromised ability of the healthcare community to meet the needs of people with IDD is a form of discrimination" says Dr. Craig Escudé, physician and president of IntellectAbility.
According to the American Academy of Developmental Medicine and Dentistry (AADMD), the average life expectancy of people with IDD is more than 60 years now, as compared to years ago when their average life expectancy was less than 20 years.(1) Physicians like Escudé have pointed out how the healthcare community is not always aligning their objectives with these changes. "With people with IDD living longer, it is even more vital that they receive appropriate healthcare services, including preventive care, to ensure the best quality of life," says Escudé.
"Even as a former physician leader at the Centers for Medicare and Medicaid Services, and a parent of a son with a developmental disability, I had limited understanding of the healthcare needs of people with disabilities until our family experienced the negative impacts of poorly trained clinicians," says Dr. Mai Pham, from the Institute of Exceptional Care, a prominent organization working to improve healthcare for people with IDD who contributed to a National Council on Disability paper entitled Health Equity Framework for People with Disabilities. "There is desperate need to support healthcare practitioners in overcoming outdated assumptions about people with disabilities and gaining the cultural and clinical competencies they need to serve all patients well."
The NCD paper addresses the disparities in healthcare treatment for individuals with IDD, including how it is exacerbated by the lack of medical training. The paper highlighted the physical and systemic barriers that stand in the way of sufficient access to healthcare for people with disabilities.(2)
One example of this, which is referenced in the NCD paper, is a tendency for women with IDD to be on the lower end of rates of breast cancer and cervical cancer screenings, as opposed to their non-disabled peers, who are examined for these conditions at higher rates. The NCD also mentions how the COVID-19 pandemic exposed the discrimination that people with intellectual disabilities experience regarding the medical services they receive.
Several studies have shown that people with IDD are more likely to both contract COVID-19 and to die from it. One recent study reports that people with intellectual disabilities are 5.9 times more likely to die from COVID, which makes having an intellectual or developmental disability the second greatest risk factor, second only to age, for dying from COVID.(3)
The NCD paper addresses "diagnostic overshadowing," which has been a longtime concern of Escudé's. Escudé refers to diagnostic overshadowing as "the tendency of the healthcare provider or clinician to ascribe a particular behavior that a person is exhibiting, simply to the fact that they have a disability, rather than looking for some treatable underlying cause."
NCD Recommendations
The NCD has put forth a recommendation that the United States Department of Health and Human Services create "model comprehensive disability clinical-care competency curricula." The curriculum would consist of an 8-point framework of areas that need to be adequately addressed in order to work towards the elimination of these disparities in healthcare for people with IDD. The purpose of the curricula is to make it available for adoption by medical, nursing and healthcare schools in the United States. But even for schools that choose to develop their own curriculum, NCD recommends those schools address all eight elements from the framework. Below are the eight points that make up the NCD's framework to be used for school curriculum:
Competency 1: Contextual and Conceptual Frameworks on Disability
Competency 2: Professionalism and Patient-Centered Care
Competency 3: Legal Obligations and Responsibilities for Caring for Patients with Disabilities
Competency 4: Teams- and Systems-Based Practice
Competency 5: Clinical Assessment
Competency 6: Clinical Care Over the Lifespan and During Transitions
Competency 7: Effective Communication
Competency 8: Advocacy
Of these eight points, Escudé says that the areas that require the most attention are numbers 5 and 6, Clinical Assessment and Clinical Care Over the Lifespan and During Transitions. "Teaching clinicians about disabilities is different than empowering them with true clinical competency. It requires education specifically geared at increasing the clinical skills necessary for appropriately assessing and treating people with IDD which goes above and beyond what is normally taught to students. It's not just simply teaching how to treat aspiration pneumonia, for instance, which is more common in individuals with IDD," explains Escudé, "it's understanding why people with IDD are at increased risk, how early signs of the condition may appear differently, what behaviors might be present that can indicate that this medical condition is happening, and how to create a treatment plan that is specific to meet the needs of a person with IDD."
Escudé also emphasizes that the need for better training goes beyond just healthcare workers. Parents, supporters, and anyone else close to a person with IDD who can advocate for their care are the most likely people to notice early signs of health destabilization and alert medical professionals as to what is happening. "I would recommend that anyone who provides supports and services to people with IDD should receive training specifically geared towards recognizing health destabilization and knowing what to do about it because they're often the front line."
And while theoretical knowledge is definitely necessary, there is also an equally strong need for healthcare professionals to undergo hands-on clinical care training that is geared towards providing healthcare for people with IDD. Escudé explains that these measures can be implemented by employing more people with IDD as model patients in training curricula and having more people with disabilities participate in training programs in medical schools, nursing schools and residency programs. "It's important to interact with people with disabilities outside of the medical community, as well, to gain more of an understanding of how they are just like everyone else," Escudé believes. "Even though the quality of life for people with intellectual disabilities may be different, it certainly doesn't mean that it's lower or that they should be valued any less."
There are helpful tools out there to improve medical training and services received by people with intellectual disabilities. One of these tools is the Curriculum in IDD Healthcare.(4) It's a 6-module, online course that teaches the fundamentals of IDD healthcare to both medical students and practicing clinicians.
According to what medical professionals like Escudé, along with government entities such as the NCD, have outlined, there is a clear need for change in two areas: First, there is a need for more clinical training for medical professionals that is tailored to individuals with disabilities. This should encompass both theoretical and hands-on training. And second, there is a need to break down physical and systemic barriers to access to healthcare services for people with intellectual disabilities.
"We need to see people with IDD as people, first, and treat them as one would any other patient. The healthcare industry bears responsibility to help people with IDD live the best and healthiest life they can. Thankfully, the NCD, a nationally recognized and well-respected entity, is taking action based on solid expertise and evidence. Change is coming at last," says Escudé.
About IntellectAbility:
IntellectAbility provides tools and training to agencies, governmental entities and supporters of people with intellectual and developmental disabilities and other vulnerabilities to foster early recognition and mitigation of health risks thereby improving health and wellness. One such tool is the Health Risk Screening Tool (HRST), of which they are the sole developer, producer, and distributor. The web based HRST is the most widely used and validated health risk screening instrument for people with intellectual and developmental disabilities. IntellectAbility also provides numerous health-related and person-centered service trainings for supporters of people with IDD. With unrelenting focus, IntellectAbility works to fulfill its mission of improving health and quality of life for people with intellectual and developmental disabilities and other vulnerabilities. For more information, visit https://ReplacingRisk.com.