Starting a Family is Riskier for Women with IDD
Exceptional Parent Magazine, April 2022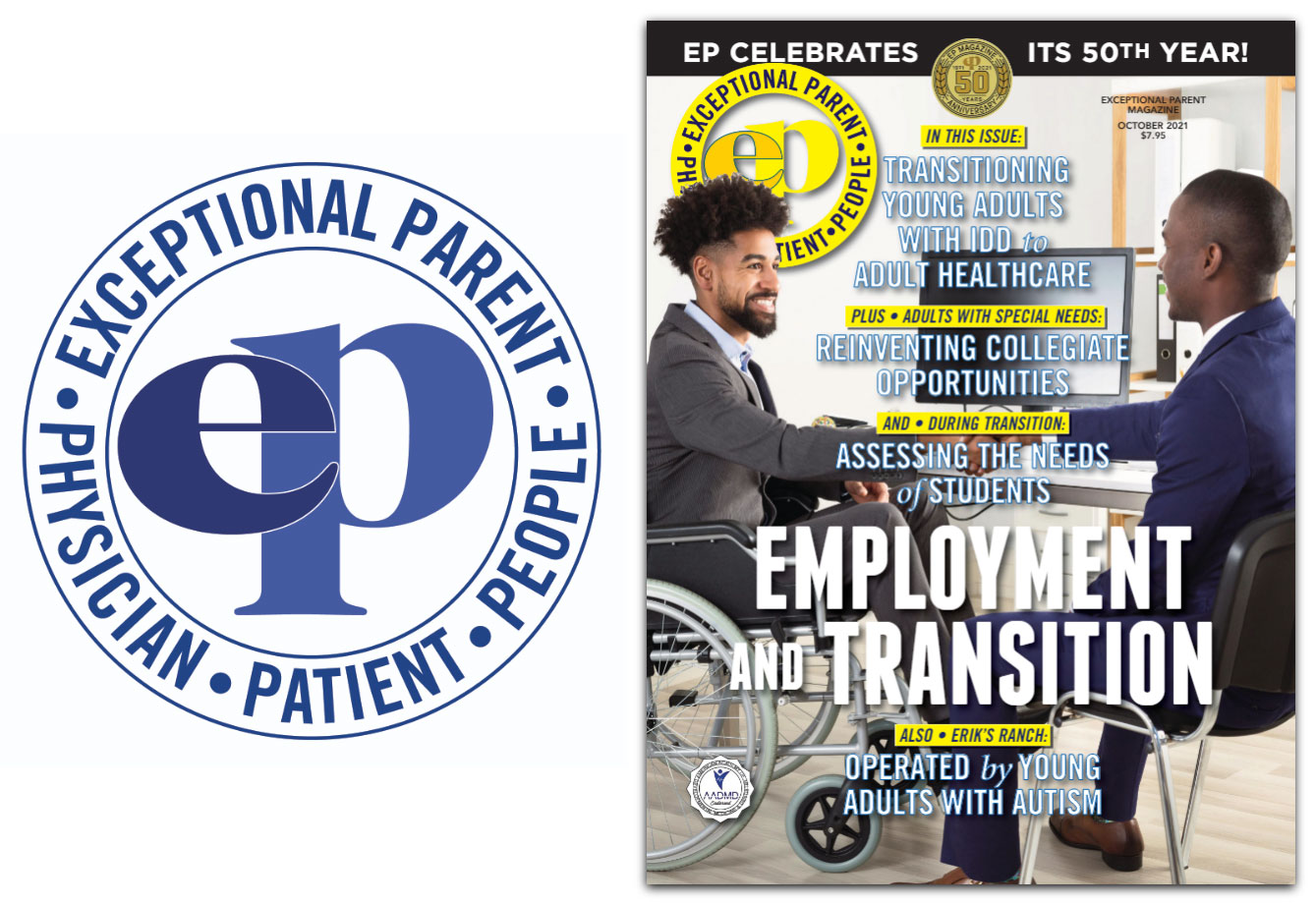 BY CRAIG ESCUDÉ, MD, FAAFP
Most people with intellectual and developmental disabilities (IDD) want what everyone else does—the opportunity to live life to its fullest. For some, this includes having a family. For anyone, the decision to start a family is usually a big one. However, people with IDD, their families, and supporters have additional factors to consider. They are at greater risk for poor pregnancy outcomes.
We know that there are health disparities in many areas relating to people with IDD. There are lower rates of health screening for diseases like diabetes, prostate cancer and breast cancer. People with IDD are more likely to have chronic health conditions, to have undetected poor vision, and to have limited access to quality healthcare and health promotion programs, according to the Center for Disease Control (CDC).
Women with IDD are less likely to have cervical and breast cancer screenings and less likely to have ever visited a gynecologist. Studies have also shown that women with IDD have increased risk of pregnancy complications and adverse outcomes, including gestational hypertension and gestational diabetes. They are also shown to have a higher rate of caesarean delivery compared to women without IDD. Other noted increased risks include early labor, pre-term birth, and preeclampsia, which is a serious and potentially deadly condition associated with pregnancy.
IMPROVING THE SITUATION
Enough about the negatives. How do we make this better? Having access to quality healthcare is a good place to start. There are a number of factors that come into play when working to create a healthcare environment where everyone can receive quality care. Things like having a physical environment that facilitates access for people with mobility limitations, the availability of transportation to and from healthcare visits, and financial considerations all play a role. But, for this discussion, I'd like to focus on the healthcare provider-patient interaction.
THE ROLE OF THE CLINICIAN
A clinician should have the knowledge and training to provide healthcare for any given condition which they are responsible for treating. However, it is widely known that many, if not most, clinical training programs provide little IDD-specific healthcare training for their students. Besides improving clinical competency, education can help to reduce inaccurate stereotypes and preconceived notions about people. The CDC notes that there are stereotypes that exist in the healthcare world with assumptions being made that the quality of life of a person with IDD is poor or that they are unhealthy solely based on their disability or level of impairment. There is also stigma associated with having a disability that shapes attitudes and expectations and can also shape outcomes. These assumptions and stigmas are certainly not limited to the healthcare world. They permeate throughout society.
BETTER TRAINING LEADS TO BETTER OUTCOMES
There is no doubt in my mind that if you came to see me to have cataract surgery, you would have a very poor outcome. Why? Because I am a family physician, not a trained ophthalmologist. As a family physician and knowing my lack of training in this procedure, I would refer you to someone who has expertise in the field. This makes perfect sense, right? But for people with IDD, especially adults, clinicians with training and experience in providing healthcare for people with IDD are few and far between. Don't get me wrong, there are indeed clinicians and clinics that do a wonderful job of providing healthcare for people with IDD, however, sometimes people have to drive hours to get to them. In some communities, when word gets out that a particular clinician does a great job providing healthcare to people with IDD, they get overloaded with patients who are desperate to find good healthcare. We must do better as a healthcare profession to ensure access to quality healthcare for all.
IDENTIFYING THE ISSUES
One of the ways to make thing better is to study in more detail exactly what the problems are that contribute to the issues. The Administration for Community Living's National Institute on Disability, Independent Living, and Rehabilitation Research division has just awarded a three-year grant to the Lurie Institute for Disability Policy at Brandeis University to support research toward advancing pregnancy experiences for women with disabilities. The goals are to address gaps in knowledge about pregnancy and disability, to develop interventions to support and enhance the pregnancy experience, and to ensure optimal pregnancy related outcomes. This is certainly good news! One of the ways that they plan to ensure optimal outcomes is through active dissemination of findings and trainings for stakeholders. Training is the key.
THE PROVIDER-PATIENT RELATIONSHIP IS A TWO-WAY STREET
There is a great responsibility on the part of health professional training programs to educate clinicians on providing healthcare to people with IDD. There is also a great opportunity for people with IDD to foster the growth of clinically competent and compassionate clinicians. What I am about to say may certainly add to the frustration of people with IDD and their supporters in terms of not being able to find clinicians to meet their needs, but if we view it as an opportunity, we can make it a win-win situation.
I've heard from countless people with disabilities, their supporters and nurses about the frustration they experience when looking for good healthcare. I've also heard from many that they should not have to train clinicians. They want clinicians that are already trained in this area. First, let me say that I could not agree more. But, the reality is that this is not the world in which we currently live. But, sharing the resources above can help make it so.
I believe that anyone, with or without a disability, should be able to present to any clinician's office, emergency room or hospital and receive a basic level of competent and compassionate healthcare. Improving clinician education and fostering better clinician-patient communication will certainly work to make this ideal a reality.
ABOUT THE AUTHOR:
Craig Escudé, MD, FAAFP is a board-certified Fellow of the American Academy of Family Physicians and the American Academy of Developmental Medicine and is the President of IntellectAbility ( replacingrisk.com). He served as medical director of Hudspeth Regional Center in Mississippi and is the founder of DETECT, the Developmental Evaluation, Training and Educational Consultative Team of Mississippi. He has more than 20 years of clinical experience providing medical care for people with IDD and complex medical conditions and is the author of "Clinical Pearls in IDD Healthcare" and the "Curriculum in IDD Healthcare."
HELPING CLINICIANS UNDERSTAND: WHAT ROLE CAN FAMILIES AND SUPPORTERS PLAY?
There is an opportunity here. An opportunity to work with clinicians to help them improve their skillset and provide better care. What role can families and supporters play?
Know that most healthcare providers want to provide good healthcare. Starting with this understanding may help alleviate the thoughts that clinicians just do not care.
Help clinicians to see the person with IDD as a person, first: someone with interests, likes, hobbies, friends, and activities. This helps clinicians understand that their patient is a person like everyone else, with a quality of life that can be improved with good healthcare, and that helping them resolve or better manage their clinical issues can help them resume their normal life activities.
Increase the awareness of clinicians' knowledge about organizations and resources that can help them gain knowledge in the field of IDD healthcare. Here's a few of them:

The American Academy of Developmental Medicine and Dentistry: AADMD.org
The Developmental Disabilities Nurses Association: DDNA.org
The book, Clinical Pearls in IDD Healthcare: replacin- grisk.com/product/clinical-pearls
The eLearn Course, "Curriculum in IDD Healthcare:" https://replacingrisk.com/academy/idd-training-curriculum

Be as prepared as possible for healthcare appointments, having up-to-date health information readily available along with concise medical history, medications and social information as well. Utilizing a Health Passport document can be very helpful. Here's an example of one: r eplacingrisk.com/down-loadables/HRST-Health-Passport-Fillable-PDF.pdf
Advocate for incorporation of formal training about IDD healthcare into medical, dental, nursing and allied health professional schools in your area. This training can include using the Curriculum in IDD Healthcare. Use the influence you may have through advocacy organizations and with legislators to help ensure that future clinicians can meet the needs of everyone.
Feature originally published by Exceptional Parent Magazine.