Person-Centered Thinking Training in Universities Needed to Achieve Educational Equity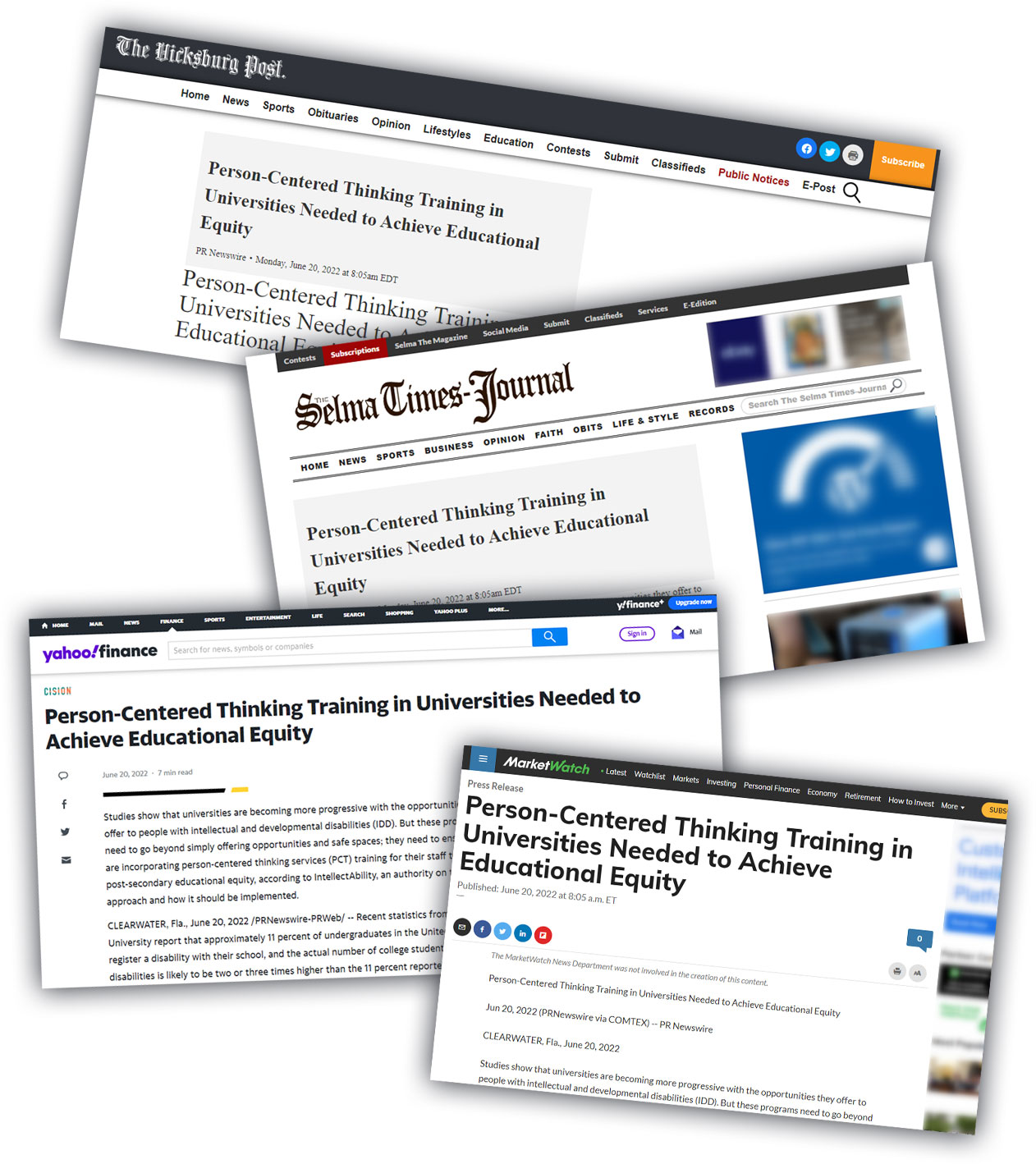 Studies show that universities are becoming more progressive with the opportunities they offer to people with intellectual and developmental disabilities (IDD). But these programs need to go beyond simply offering opportunities and safe spaces; they need to ensure they are incorporating person-centered thinking services (PCT) training for their staff to ensure post-secondary educational equity, according to IntellectAbility, an authority on the PCT approach and how it should be implemented.
Recent statistics from Yale University report that approximately 11 percent of undergraduates in the United States register a disability with their school, and the actual number of college students with disabilities is likely to be two or three times higher than the 11 percent reported.
(1) While more universities are starting to include people with intellectual and developmental disabilities (IDD) in their curriculum, this only scratches the surface in terms of ensuring that this part of the population receives the same educational experience as everyone else. To achieve this, schools need to train staff who support people with IDD on how to deliver a person-centered approach that promotes post-secondary (any type of education beyond high school) educational equity. Patrick Lane, who manages person-centered services for IntellectAbility (a leader in providing training to universities for people with IDD), says, "equity is not equality—equality means 'everybody goes to college' while equity means 'having the same educational experiences as everybody else.'"
College programs that promote educational equity for people with IDD are on the rise; a study showed that in 2019 over 260 colleges nationwide offered on-campus transition programs for the IDD community, compared to the mere 25 programs being offered in the United States back in 2004.
(2) But while these programs have grown in recent years, they still face challenges.
(3) Simply implementing these inclusion programs does not go far enough to give people with IDD an equitable opportunity, according to Lane. Recent research found that students with disabilities are less likely to feel accepted or supported at their university,
(4) and one-third of students with mental health disabilities reported that they were unaware of accommodations they qualified for at their post-secondary education institution.
(5) Even with these programs in place, there is still a specific skillset required among staff involved to provide a person-centered thinking approach that will amplify intellectual disability services and allow them to effectively reach the person, says Lane. "Universities are on the right track with implementing these inclusion programs, but they need person centered thinking training and support to ensure they are maximizing opportunities for each student's success."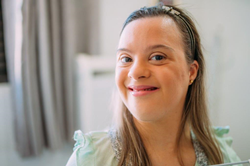 Latino female student with IDD
Universities are on the right track with implementing these inclusion programs, but they need person centered thinking training and support to ensure they are maximizing opportunities for each student's success.
Bringing in experts that are well-versed in person-centered thinking allows post-secondary schools to move beyond something that was once just a theory and put it into action. The training for person-centered thinking has become more well known in certain environments, such as home and community-based services, but many universities have yet to be introduced to the unique person-centered approach offered by companies such as IntellectAbility. "It's about making our two worlds meet to improve educational experiences for people with IDD," says Lane.
Two common goals are behind the person-centered thinking approach.
1. First: to give students with IDD a successful, integrated, and inclusive college experience.
2. Second: to provide supporters of people with IDD with an approach that helps students gain or regain positive control over their lives. Person-Centered Practices are rooted in Person-Centered Thinking (PCT), which helps others to gain and keep a positive and correct response to the person. It promotes the all-important balance of what is Important TO and FOR the person.
Lane stresses that health and safety always come first, and the person-centered thinking approach leaves no room for neglect in this area.
Lane comments on frequently asked questions by universities:
What is the best way to go about introducing these programs to universities and getting them implemented? Lane says it's important to first market the programs to administrative personnel at these universities to get the program started and allow the concept of person-centered thinking to penetrate. For the university staff, such as tutors and mentors, who will be working directly with people with IDD, there would be more formal training required.
What are some of the specific unique aspects that person-centered thinking training addresses that can easily be missed by personnel unfamiliar with this approach? One important aspect is having awareness of what the person with a disability values, and what brings them a sense of comfort. Receiving training in the person-centered thinking approach allows the tutor, mentor or whoever is working with the person to understand what is being communicated by the person both verbal and non-verbally.
By not incorporating the person-centered thinking approach, what risks are these universities taking? First, it's critical that the university tutors and other professionals working with this population treat the person with respect, promote autonomy and avoid offending the individual and losing their trust, because then the services they are providing could be rendered useless. It is also very important that the programs promote independence and do not encourage helplessness in people with IDD.
Some programs are actively seeking out person-centered thinking training, such as Florida International University, with their FIU Embrace Center for Advancing Inclusive Communities. The FIU Embrace program presents a model that other universities can emulate. The FIU website states that the Embrace Program "empowers each differently-abled person to live at their fullest potential through research-based and innovative programming, community engagement and professional skills development."
When working with people with IDD, "it's critical to form a strong partnership," says Lorene Reagan, RN, MS, Director of Public Relations for IntellectAbility, because "these students may be making decisions counter to what their parents want and that is part of the college experience, it's part of what they're there for."
At the same time, Reagan says part of person-centered thinking training is "just really recognizing that at the same time that all those typical [college] things are happening, all of the same challenges that they had before they entered college are still there, and they have to be addressed."
Adding the person-centered thinking approach to university programs ensures post-secondary educational equity for people with IDD, meaning not only do people with IDD have the opportunity to attend college like other people, but they also get to receive the same college experience.
About IntellectAbility:
IntellectAbility provides numerous health-related and person-centered thinking trainings for supporters of people with IDD. IntellectAbility provides tools and training to agencies, governmental entities and supporters of people with intellectual and developmental disabilities to foster early recognition and mitigation of health risks thereby improving health and wellness. One such tool is the Health Risk Screening Tool (HRST), of which they are the sole developer, producer, and distributor. The web based HRST is the most widely used and validated health risk screening instrument for people with intellectual and developmental disabilities. With unrelenting focus, IntellectAbility works to fulfill its mission of improving health and quality of life for people with intellectual and developmental disabilities and other at-risk populations. For more information, visit ReplacingRisk.com