Missouri Innovates by Making Health Risk Informed Telemedicine Available to People with IDD
Through a public-private partnership between the Missouri Department of Mental Health's Division of Developmental Disabilities, IntellectAbility, and StationMD, a new tool exists to improve healthcare delivery for Missourians with intellectual and developmental disabilities (IDD).
(Jefferson City, MO) March 20, 2023
Health Risk Informed Telemedicine (HRIT) consists of three components: IDD-trained telehealth clinicians, physician access to web-based health risk data, and access to telehealth services. StationMD, whose services are available to IDD waiver participants in MO, now includes the ability for their IDD-trained clinicians to access real-time health risk data from IntellectAbility's Health Risk Screening Tool (HRST) to inform them about a person's specific health risks, assisting in their clinical decision-making.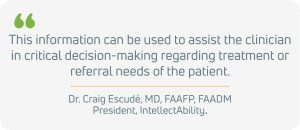 "Any waiver participant who has been screened by the HRST who utilizes StationMD's telehealth services will automatically receive the benefit of their telemedicine physician's awareness of their specific health risk profile. This information can be used to assist the clinician in critical decision-making regarding treatment or referral needs of the patient," states Dr. Craig Escudé, President of IntellectAbility.
People receiving services under the MO Division of Developmental Disabilities Medicaid Waiver can access telehealth services now. No additional steps are needed to receive the benefits of HRIT other than ensuring that a person's HRST screening is completed. Through an interface between the HRST and StationMD, the health risk information will auto-populate in the StationMD health record.
"When providing care to individuals with IDD, health care providers often encounter complex conditions, a lack of experience or familiarity with those conditions, unique health risks, as well as communication challenges which prevent the provider from fully understanding the risks and conditions of the patient," said Jessica Bax, Director of the Missouri Department of Mental Health-Division of Developmental Disabilities. "Cutting-edge innovation and the strong partnership with IntellectAbility and StationMD will provide 24/7 access to the best possible care for Missourians with IDD from the comfort of their home."
According to Dr. Maulik Trivedi, Chief Strategy Officer at StationMD, "Health-risk informed access to IDD-specialized telemedicine supports is a game-changer for people with IDD. Our partnership with IntellectAbility starts with educating our physicians using the Curriculum in IDD Healthcare and now includes access to the person's health risk information using a new interface between the HRST and the StationMD telemedicine platform."
For more information about accessing this important service, visit the Missouri Department of Mental Health's website HERE.
About the Missouri Department of Mental Health

The Department of Mental Health (DMH) serves Missourians with mental illnesses, developmental disabilities, and substance use disorders through state-operated facilities and contracts with private organizations. Its mission is to serve, empower, and support citizens to live their best lives.
About StationMD

StationMD is a telehealth company dedicated to serving individuals with intellectual and/or developmental disabilities (I/DD). All StationMD clinicians are board-certified and specially trained to treat individuals with I/DD. Clinicians are available 24/7 via telemedicine for urgent and non-urgent medical matters. StationMD also offers scheduled psychiatry and primary care telemedicine to individuals with I/DD. In providing this suite of services, StationMD enables individuals with I/DD faster access to high-quality care and substantially reduces unnecessary medical costs.