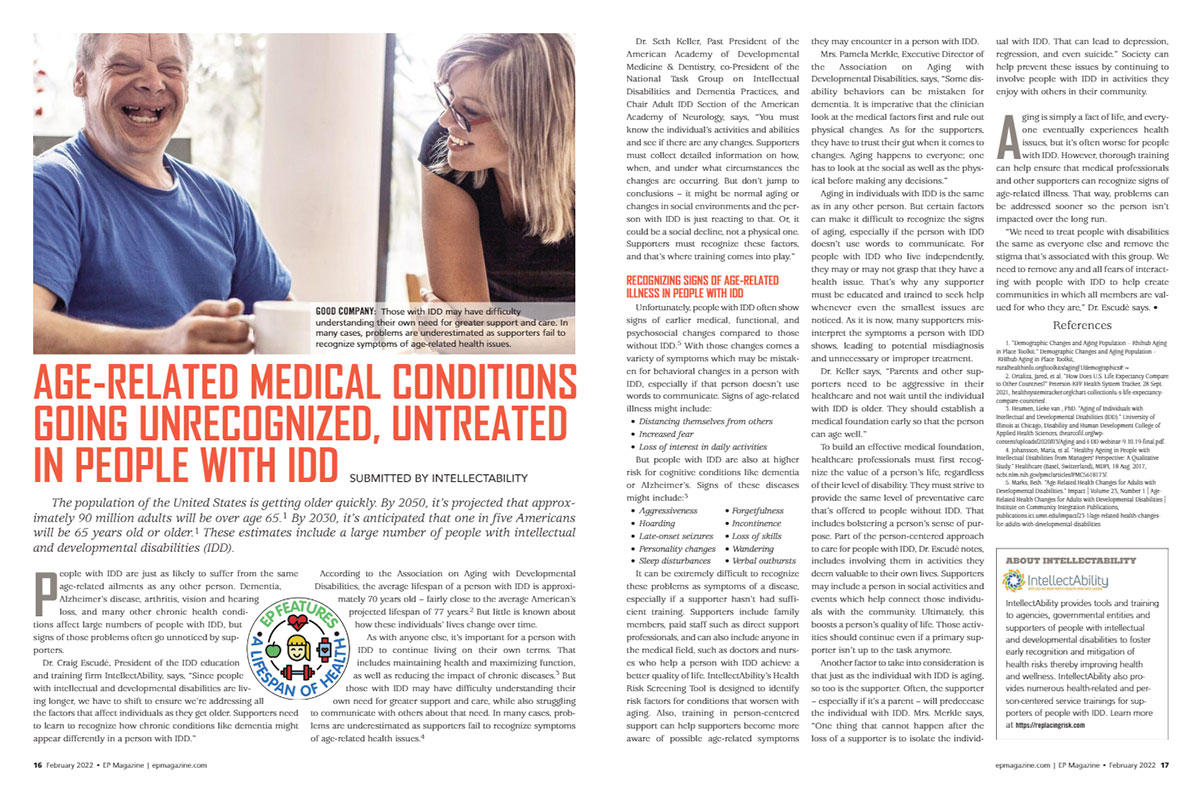 TEXT-BASED EXCERPT OF THE ARTICLE
AGE-RELATED MEDICAL CONDITIONS GOING UNRECOGNIZED, UNTREATED IN PEOPLE WITH IDD
The population of the United States is getting older quickly. By 2050, it's projected that approximately 90 million adults will be over age 65. By 2030, it's anticipated that one in five Americans will be 65 years old or older. These estimates include a large number of people with intellectual and developmental disabilities (IDD).
People with IDD are just as likely to suffer from the same age-related ailments as any other person. Dementia, Alzheimer's disease, arthritis, vision and hearing loss, and many other chronic health conditions affect large numbers of people with IDD, but signs of those problems often go unnoticed by supporters.
Dr. Craig Escudé, President of the IDD education and training firm IntellectAbility, says, "Since people with intellectual and developmental disabilities are living longer, we have to shift to ensure we're addressing all the factors that affect individuals as they get older. Supporters need to learn to recognize how chronic conditions like dementia might appear differently in a person with IDD.
According to the Association on Aging with Developmental Disabilities, the average lifespan of a person with IDD is approximately 70 years old – fairly close to the average American's projected lifespan of 77 years. But little is known about how these individuals' lives change over time.
As with anyone else, it's important for a person with IDD to continue living on their own terms. That includes maintaining health and maximizing function, as well as reducing the impact of chronic diseases. But those with IDD may have difficulty understanding their own need for greater support and care, while also struggling to communicate with others about that need. In many cases, problems are underestimated as supporters fail to recognize symptoms of age-related health issues."
Spread awareness: download and share the full article here:
Age-Related Medical Conditions Going Unrecognized, Untreated in People With IDD